What is a VGA Splitter?
A VGA splitter is a device that duplicates a VGA signal. In other words, in accepts one VGA input, and clones it to multiple VGA outputs.
VGA Splitters and Screen Capture
VGA Splitters are often used in screen capture solutions where a VGA signal needs to be captured. Since a VGA splitter clones a single VGA signal into two or more feeds, this allows the user to retain the use of a standard computer monitor, while at the same time sending the VGA signal to a capture device like a frame grabber.
Active and Passive VGA Splitters
Two different types of VGA splitters exist. Active VGA splitters and passive VGA splitters. Passive VGA splitters, pictured below, are also known as simply Y-splitters or Y-adapters:
Active VGA splitters, on the other hand, consist of hardware devices that need to be powered to operate and often have more than 2 ports on the output side. A VGA Splitter from Kramer Electronics is shown below:
When to use a Passive Splitter
A passive splitter has only a few advantages over its active counterpart. Firstly, passive splitters are extremely cheap in price, as they can often be found for under $10. Secondly, they are compact and require no power source.
Unfortunately, passive splitters also have some downfalls. They are not compatible with all equipment, as passive splitters don't let monitors properly identify themselves to the VGA source. Passive splitters support  a maximum of only two outputs and, since there is no amplification of the signal, the outputs are often of inferior quality than if seen without the splitter.
It is suggested to use a passive splitter when you are connecting two of the same model monitor to the splitter's output, no power source is available, or when picture quality is unimportant to you.
When to use an Active Splitter
Active VGA splitters have countless advantages over passive VGA splitters. Active VGA splitters can clone one VGA port into virtually any number of outputs. Furthermore, an active VGA splitter identifies itself to the computer as a monitor, meaning that there will be no incompatibility issues with the different models of monitors and VGA-based equipment connected to it.
Furthermore, active VGA splitters slightly amplify the signal (not to be confused with VGA amplifiers) which means that the resulting VGA output will be of significantly superior quality when comparing to that of a passive or Y-splitter.
Realistically, the one and only disadvantage of an active splitter is that it requires a power source for it to operate.
Conclusion
If possible, using an active splitter is recommended for all applications. However, since proper active splitters retail for well over the $100 mark, a passive splitter will sometimes suffice.
When choosing an active VGA splitter, always make sure to check its specifications in order to see if it is compatible with the resolution you plan to use it with.
While some portable game systems like the Sony PSP have built-in screen capture, the DS from Nintendo is disadvataged in this respect. There is no simple way of capturing the screen by recording to a file, and the DS does not have a TV-out. This article will review and discuss several ways of recording videos from a Nintendo DS or DS Lite, as well as replicating the DS' screen on a TV.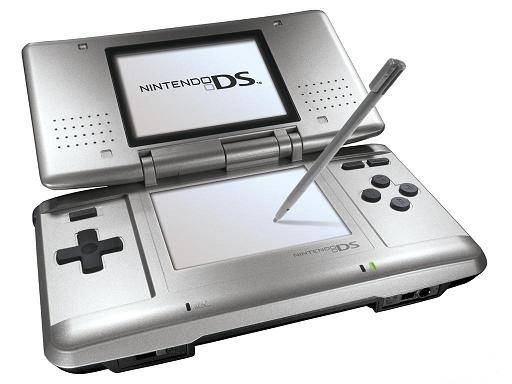 TV-out devices
The first way to output your DS' screen to a monitor or TV is by using a third party TV-out device made specifically for the Nintendo DS. Initially, there were two different models available, but only one is being produced now.
The now discontinued DS to TV adapter was made in Taiwan by Q-Mark. This is the best TV-out device available for the DS, letting you see the output of both LCD screens on a TV. The downside to the Q-Mark device is that the DS has to be modified in order to accomodate the TV adapter, making it bulky and less portable. The Q-Mark device is shown below.
Another screen capture device for the Nintendo DS is the camera-based "Video Game Controller Adapter," also made by Q-Mark. It can be purchased here and consits of a small device the slips over the upper screen of the DS, pictured below.

The latter device consists basically of a camera that is pointed at your screen, and, because of the way it is attached to the DS, only one screen is visible. Of course, quality is compromised as the camera optics are not of extremely high quality and lighting conditions severely impact this device's operation.
Either way, if it becomes hard to find the DS to TV adapter and only the camera-based Q-Mark unit is available, it is still tolerable, as long as you intend on playing on one screen only.
Recording and broadcasting video from the Nintendo DS if using TV-out devices
If one of the devices mentioned above is used with the Nintendo DS, and the goal is to capture the video in order to record it, share it on a site like YouTube, or broadcast it, any capture card or video card with Video-in (RCA) will do the trick. YouTube even supports on-the-fly recording, so as long your capture card or video card is set as the webcam device in Windows, and  your DS is connected to your capture card via one of the DS-to-TV adapters mentioned above, you're ready for recording!
For live broadcasts, a variety of software can be used, but we recommend the free Windows Media Encoder. Details on how to use Windows Media Encoder in order to broadcast a video stream from an external device can be found here.
Using an Emulator to Record Gameplay
Using a software emulator on a computer is the cheapest and best way to record gameplay of the Nintendo DS, but is only really suited for short operations and not intended for lengthy game play. An emulator is a software program which replicates the functions of the Nintendo DS. In order to load games to it, you will need to find "ROMs" of each game. Downloading ROMs may be illegal depending on the laws of the country where you live.
Follow this link for a list of free emulators for the Nintendo DS. Once the emulator of your choice is up and running, you must simply capture your screen using either software for screen capture (we have reviewed lots of different programs in our Software as well as News sections) or by connecting a frame grabber to your computer monitor.
How many times have you wanted to use a TV as a computer monitor? Maybe there has been a situation where you wanted to extend the output of your laptop or portable computer onto a TV screen but the computer did not have a TV output? While the TV-out was a standard port on older laptop computers, it is seldom found on modern portable and ultraportable computers.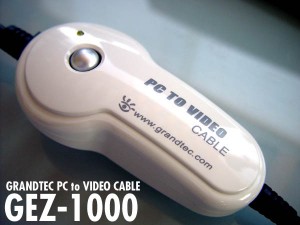 This is where a device like the Grandtec GEZ-1000 VGA-to-TV converter comes in.  About the size of a standard pencil eraser (4" x 2.25" x 1.25"), the GEZ-1000 takes a VGA signal and converts into a TV signal via a standard composite video RCA or S-Video cable.
The GEZ-1000 uses a starndard USB port to draw its power, so no external power source is required. Simply plug it into the VGA source, and composite video or S-Video output, and any available USB port, and the device will automatically begin relaying the VGA image to the TV it is connected to. If you are considering this converter, make sure to have long enough VGA and video cables available, as these are not included in the package.