OS X has a built-in screen capture function, but it is pretty limited. For example, Command-Shift-4 lets you define a rectangle to capture. Command-Shift-4 followed by the space bar will capture a window. You can also capture your entire desktop with Command-Shift-3, and other commands will save the result to your clipboard.
Sometimes, those basic features are not enough. Apple bundles a utility called Grab with OS X that adds more features, but it still falls short for many users. Enter Screenshot FX, a very handy US$1.99 utility (on sale now) that lets you capture irregular objects by clicking on points and then dragging those points to create a curve.
The app sits in your Menu Bar waiting to be invoked, or you can hit Command-Shift-5 to bring it up. When you have outlined your object, you click on the first point, hit Return and your screenshot is saved to a location you specify in the app's preferences.
Once your points are selected, you can modify them, or use the arrow keys on your keyboard to fine-tune the selection, either one or four pixels at a time. Any control point can be edited or deleted, giving you a lot of flexibility. The only negative is that all captures are saved as PNG files, the same format Apple uses. I'd like to see an option where I could save as a JPG, TIFF, BMP or GIF.
I tried the app with some difficult shapes, and it worked very well. I did have to refer to the built-in help to learn all the commands and key combinations, but it soon became second nature. In my work for TUAW I am constantly grabbing images like logos or screen shots of apps I am testing, so Screenshot FX is going to be a much-used item. There are similar apps around, like Screenshot Menu, which is free, but you can only draw a rectangle with it. Screenshots ($9.99) is also worth a look, as it has some nice features like sending directly to mail or iPhoto.
Screenshot FX is a handy little utility that I'll use a lot. If you find yourself needing screenshots, and want more functionality than Apple gives you, this app is just the ticket.
Screenshot FX needs OS X 10.7 or later, and a 64-bit processor.
Epiphan Systems Inc., an innovator in professional audio-visual capture, record, broadcast streaming and replay hardware products has introduced a new member to its family of external frame grabbers, the DVI2USB 3.0™.  This new product is Epiphan's most versatile and highest performance external grabber ever.

DVI2USB 3.0 captures video signals from VGA, HDMI, and DVI sources and supports either USB 3.0 or USB 2.0 connectivity to a host computer.  All of this flexibility is packed into in a sleek and robust aluminum case that fits in the palm of your hand.

DVI2USB 3.0 takes advantage of the increased throughput of USB 3.0 SuperSpeed to deliver outstanding performance.  It captures full HD video signals uncompressed at 30 frames per second while maintaining true 24-bit colour to preserve the quality and integrity of the original source signal.  Because it does not implement compression to achieve the 30 fps throughput this performance is independent of video content no matter how dynamic.
DVI2USB 3.0 draws its power from the host computer USB 3.0 link so that no external power source is required.  It is easily connected in a matter of seconds with one cable to the host computer and another to the video source.
DVI2USB 3.0 comes complete with Epiphan Capture software and drivers for Windows, MAC and Linux systems.  This software is compatible with DirectShow, QuickTime, and V4L (Video for Linux) for integration with 3rd party imaging software.  The software is common across the whole family of frame grabbers enabling a smooth migration from other frame grabber models to this newer high performance model.
MSRP for DVI2USB 3.0 is 699.95 USD.
DVI2USB 3.0 can be pre-ordered immediately for shipment on March 1, 2013.
For more information on DVI2USB3.0, please visit the DVI2USB 3.0 product page.
About Epiphan
Epiphan Systems Inc. ("Epiphan") designs, markets, manufactures and supports an innovative line of VGA/DVI/HD video signal source processing products. The products are proven, ideal solutions for capturing, compressing, transcoding, recording, broadcasting, streaming, replaying and printing of virtually any video source. Epiphan products are used in a wide range of applications such as education, training, simulation, medical imaging, computing, security, transportation, pro-av and legal applications in which capturing, processing, recording and sharing VGA/DVI/HD video source output is critical to effective communication. Epiphan is headquartered in Ottawa, Ontario, Canada with a sales office in the USA and authorized resellers throughout the world.
For more information, please visit www.epiphan.com
Media Contact Information
Shaun Markey
Shaun Markey Communications
+1 613 728 9951
Shaunmarkey@rogers.com
Epiphan Media Relations: info@epiphan.com
US/Canada: 1 (877) 599 6581
Outside USA/Canada: +1 (613) 599 6581
Epiphan Media Contact Page
The straight forward 'Print Screen' presents the simply way to grab a whole screen or window however, has it's limitations.  If you have a non-standard keyboard, or simple want to grab a particular area of the screen, you'll need to resort to a software alternative.
Using Screen Capture tools enables powerful, flexible and intuitive screen-capturing utilities to your system.  It enables you to capture anything on the screen including windows, objects, full screen, rectangle regions, freehand-selected regions, and even scrolling windows/web pages.
Many Screen Capture software tools have innovative features such as floating capture panels, hotkeys, resizing, cropping, text annotation, printing, sharing, and more.
Examples of screen capture software are Skitch for MAC and Fast Stone Capture 7.6 for Windows.
Recording Screen Casts from Android devices can sometimes be a bit tricky. A unique and  simple solution is using Epiphan Systems' DVI2USB 3.0.
There are two ways in which you can begin recording your screen cast from your android device.  The first is to own a phone with an HDMI-out port. Such devices include:
Sony Xperia S
LG Optimus 2x
LG Optimus 3D P920
Motorola RAZR HD XT925
This is only a sample list, there are more devices that are frequently hitting the market so check to see if your Android device has an HDMI-out port.  You will also need a HDMI cable with a standard Type A connector at one end and the Type D connector at the other (note that although it is visually similar, this is not compatible with micro-USB).
If you don't own any of these devices, don't worry. You can also purchase a converter that for a low price will convert signals from the micro-USB connector to the HDMI cable to record your output.
Connect the HDMI connector to Epipahn Systems' DVI2USB3.0, which is connected to your computer you are recording to, and use the free Epiphan Software to begin recording your Screen Cast from your Android Device.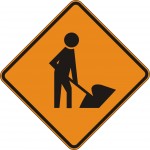 We are working on updating the ScreenCaptureNews interface and database this week. Please bear with us while changes are made to improve the SCN experience.
In an unexpected move, Epiphan Systems unveiled its' VGA2PCIe frame grabber today – a completely internal frame grabber based on the PCI Express bus. This move is unexpected because Epiphan specialized in external USB and Ethernet based devices.
The VGA2PCIe is a fairly basic 1-channel VGA frame grabber.  At the same time, VGA2PCIe offers capture rates that are impressive to say the least. Let's take a look at the advantages and shortcomings of this new device:
Advantages:
No compression when transferring the from VGA to the PC, meaning that your computer will see the VGA signal in 100% lossless, raw quality.
Capture rates vary between 35-85 frames per second, making this frame grabber ideal for high frame rate applications.
VGA2PCIe is able to capture full HD (1920×1080) video at high frame rates.
VGA2PCIe is based on 1x PCI Express, meaning it will fit in any PCI Express slot.
For a price of $800, this is lower than other competing internal devices.
Shortcomings:
Only one channel for VGA capture, although several VGA2PCIe devices can be installed on the same machine.
No drivers for Linux or Mac, but Epiphan promises to add them in the near future.
No audio input capture support, while other frame grabbers in Epiphan's product line (like the VGA2Ethernet) support a stereo audio input.
Conclusion
VGA2PCIe is a strong contender in the internal frame grabber market. It should definitely be put under consideration if you are shopping for an internal VGA frame grabber. The specifications are impressive an Epiphan's support has always been great.
A first in the market of high resolution video capture hardware, Epiphan Systems has announced a new open source frame grabber – Epiphan Lecture Recorder.
According to the product page, shipping of the Lecture Recorder will start sometime in November. Epiphan Lecture Recorder, or ELR in short, has some promising features that, at the price tag of $2000, are unbeatable by similar offerings.
ELR's Unique Features
Even though this product seems to be aimed at the educational market, Epiphan Lecture Recorder has some unique features that make it a perfect frame grabber for pretty much any application. Firstly, ELR supports not only DVI and VGA capture, but also has on-board inputs for composite video and stereo audio.
Furthermore, Epiphan Lecture recorder has a very generous 32GB of buffer memory, which is expandable via portable flash sticks, network drives, or external hard disks.
Finally, ELR features 5 USB ports for external devices and peripherals, meaning that you can create software that will allow you to connect external control devices such as IR remotes, CD/DVD writers, wireless modules, an so on.
Open Source
As mentioned earlier, Epiphan Lecture Recorder will be an open source device. What this means for developers is that it is possible to access all features of the frame grabber. And, because the ELR is more of an embedded computer or internet appliance, many interesting applications can be written for it. For example, the ELR, as it has an Ethernet network interface, can function as its own server, as pictured below.
In a Nutshell
The Epiphan Lecture Recorder is more of a computer with on-board frame grabber and video and audio capture cards than it is an actual frame grabber. While this might not be the ideal device for the general public, the ELR could be used as a platform for a wide variety of applications.
Click here to view Epiphan Lecture Recorder's product page on Epiphan Systems' website.
If you haven't picked a favorite screen capture utility, here's one that you may want to put on your list of apps to try, especially if you want to upload your captures to an FTP server.
ScreenSnapr is a simple screen capture utility. The free version has no expiry date and lacks some of the more interesting features such as posting screenshots to Twitter, something that the full version includes, for a fee of 5$.
Since paying for screen capture applications is nonsense (browse our website to see that there plenty of free apps available), let's have a look at the features of the free version:
Unlimited 1-click uploads
Custom FTP uploads
URL shrinking
Custom GUI
Dual-monitor support
Using ScreenSnapr
ScreenSnapr is launched by a shortcut that is predefined within the program. The program settings are very simple and self-explanatory. FTP settings are easily configured.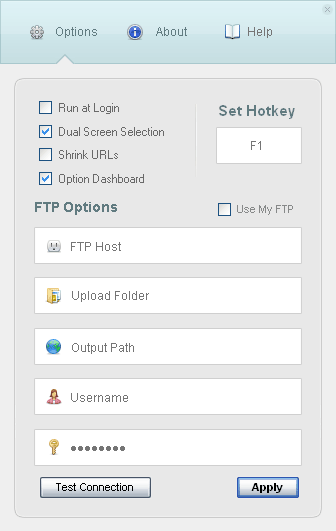 A simple window pops up as soon as you create the shortcut. Note that the Tweet option is not functional in the free version of ScreenSnapr.

Conclusion
ScreenSnapr, while still in beta, is a very simple application with no real features that make it stand out. Even free web-based screen capture tools such as Aviary are more advanced than ScreenSnapr, and do not require a payment to use the full version.
Overall, it's a nice program if you often upload screenshots to FTP, but otherwise it's best that you evaluate some other alternatives, many of which are available by browsing this site.
You may read more about and download ScreenSnapr at ScreenSnapr.com.
As the Windows 7 Release Candidate was made for free public downloading this week, manufacturers of hardware and software developers were able to test their software and hardware compatibility with Microsoft's new operating system, slated to hit retail stores in October 2009.
Epiphan Systems, the manufacturer of external frame grabbers, recording, and broadcasting solutions for VGA and DVI has announced that all of its' devices run smoothly under a Windows 7 environment and that the latest version of their software includes full support for this new operating system.
However, users may encounter some difficulties upon upgrading to this new OS, so it is still recommended that you reinstall the software when upgrading from XP or Windows Vista, as the drivers might not remain after the update.
ScreenCaptureNews will keep you updated as more software and hardware developers announce their products' compatibility with Windows 7.
One of the most visited pages on our site is our massive and extremely informative feature comparison table for the world's best VGA and DVI frame grabbers. Since it was created, some manufacturers have changed the specifications for their devices, while Epiphan Systems introduced the VGA2Ethernet frame grabber, which is now part of the table.
The first thing that you may notice is that the VGA2Ethernet has much higher specifications than any other frame grabber on the market. This is due to the fact that the VGA2Ethernet is a  much more sophisticated device and, as such, is not really comparable to the other grabbers.
Why is the VGA2Ethernet different?
You can think of the VGA2Ethernet as a separate small computer equipped with a frame grabber. As such, it is able to function remotely. In other words, the VGA2Ethernet does not have to have close proximity to the target computer, as is the case with PCI or USB based frame grabbers. As shown below, the only requirement for the VGA2Ethernet is that it be on the same network as the target computer, and within proximity of the source that it is capturing the VGA signal from.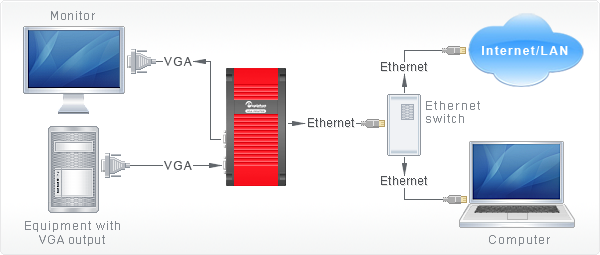 The fact that the VGA2Ethernet can be separated from the target computer distance-wise is not the only thing that makes this device different from others, however. By using the Gigabit Ethernet bus to transfer the images and a PowerPC processor paired with an advanced FPGA, the VGA2Ethernet is able to digitize images at resolutions up to 2048 x 2048 and, depending on the change in content from frame to frame, transfer them at up to 120 frames per second, making the VGA2Ethernet significantly faster than other any frame grabber available on the market.
Please click here to go to our complete VGA frame grabber review and specification page. Do not hesitate to contact us should you wish another product to be added to the table.