Epiphan Systems Inc., an innovator in professional audio-visual capture, record, broadcast streaming and replay hardware products has introduced a new member to its family of external frame grabbers, the DVI2USB 3.0™.  This new product is Epiphan's most versatile and highest performance external grabber ever.

DVI2USB 3.0 captures video signals from VGA, HDMI, and DVI sources and supports either USB 3.0 or USB 2.0 connectivity to a host computer.  All of this flexibility is packed into in a sleek and robust aluminum case that fits in the palm of your hand.

DVI2USB 3.0 takes advantage of the increased throughput of USB 3.0 SuperSpeed to deliver outstanding performance.  It captures full HD video signals uncompressed at 30 frames per second while maintaining true 24-bit colour to preserve the quality and integrity of the original source signal.  Because it does not implement compression to achieve the 30 fps throughput this performance is independent of video content no matter how dynamic.
DVI2USB 3.0 draws its power from the host computer USB 3.0 link so that no external power source is required.  It is easily connected in a matter of seconds with one cable to the host computer and another to the video source.
DVI2USB 3.0 comes complete with Epiphan Capture software and drivers for Windows, MAC and Linux systems.  This software is compatible with DirectShow, QuickTime, and V4L (Video for Linux) for integration with 3rd party imaging software.  The software is common across the whole family of frame grabbers enabling a smooth migration from other frame grabber models to this newer high performance model.
MSRP for DVI2USB 3.0 is 699.95 USD.
DVI2USB 3.0 can be pre-ordered immediately for shipment on March 1, 2013.
For more information on DVI2USB3.0, please visit the DVI2USB 3.0 product page.
About Epiphan
Epiphan Systems Inc. ("Epiphan") designs, markets, manufactures and supports an innovative line of VGA/DVI/HD video signal source processing products. The products are proven, ideal solutions for capturing, compressing, transcoding, recording, broadcasting, streaming, replaying and printing of virtually any video source. Epiphan products are used in a wide range of applications such as education, training, simulation, medical imaging, computing, security, transportation, pro-av and legal applications in which capturing, processing, recording and sharing VGA/DVI/HD video source output is critical to effective communication. Epiphan is headquartered in Ottawa, Ontario, Canada with a sales office in the USA and authorized resellers throughout the world.
For more information, please visit www.epiphan.com
Media Contact Information
Shaun Markey
Shaun Markey Communications
+1 613 728 9951
Shaunmarkey@rogers.com
Epiphan Media Relations: info@epiphan.com
US/Canada: 1 (877) 599 6581
Outside USA/Canada: +1 (613) 599 6581
Epiphan Media Contact Page
Recording Screen Casts from Android devices can sometimes be a bit tricky. A unique and  simple solution is using Epiphan Systems' DVI2USB 3.0.
There are two ways in which you can begin recording your screen cast from your android device.  The first is to own a phone with an HDMI-out port. Such devices include:
Sony Xperia S
LG Optimus 2x
LG Optimus 3D P920
Motorola RAZR HD XT925
This is only a sample list, there are more devices that are frequently hitting the market so check to see if your Android device has an HDMI-out port.  You will also need a HDMI cable with a standard Type A connector at one end and the Type D connector at the other (note that although it is visually similar, this is not compatible with micro-USB).
If you don't own any of these devices, don't worry. You can also purchase a converter that for a low price will convert signals from the micro-USB connector to the HDMI cable to record your output.
Connect the HDMI connector to Epipahn Systems' DVI2USB3.0, which is connected to your computer you are recording to, and use the free Epiphan Software to begin recording your Screen Cast from your Android Device.
The new iPad by Apple, a supersized version of the iPod/iPhone, is a tablet computer that features a 9.7″ display with multitouch touch screen technology, running at a resolution of 1024×768.
Recording the entire screen would come in very handy for development, troubleshooting, training videos, demos, podcasts, and even direct broadcasts from the iPad screen.
While a native software solution to iPad screen capture is either weak or nonexistent, there is an ideal and low-cost hardware capture solution that will allow you to capture the entire contents of the screen without slowing down or otherwise altering the functionality of the Apple iPad.
This solution consists of two things: the Apple iPad dock connector to VGA adapter (pictured below), available from the Apple store ($29) and the Epiphan Systems VGA2USB ($299).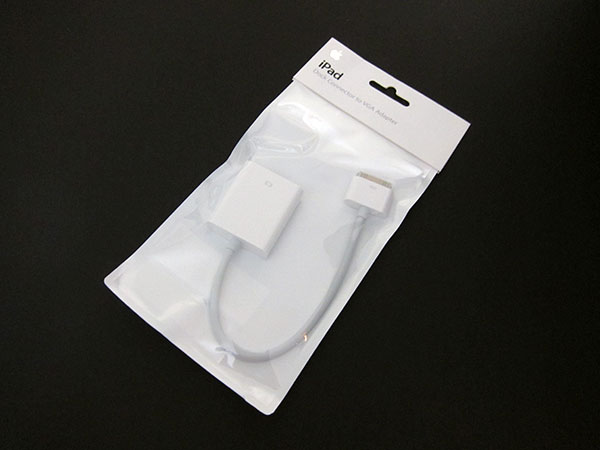 The iPad to VGA dock connector currently allows you to add a VGA port to the Apple iPad and mirror the image on the iPad's screen on the output. In the future, Apple will add support for applications to use this external output.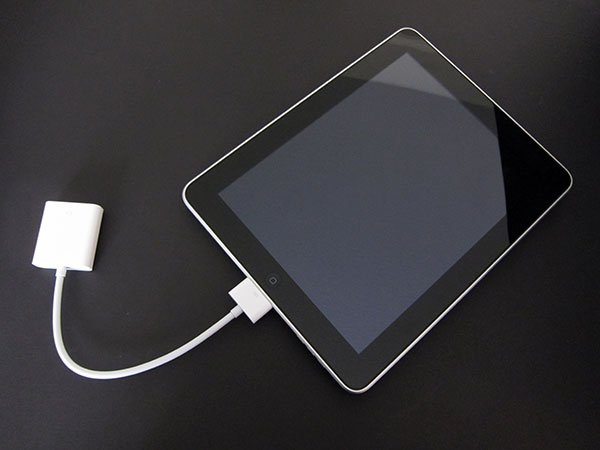 In order to record video from Apple's iPad, we must begin by connecting the iPad to VGA adapter to the iPad, and connecting the Epiphan Systems VGA2USB to the VGA side of the adapter. A more detailed diagram is shown below: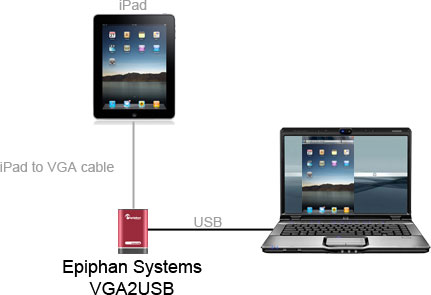 The captured video from the iPad can be recorded on the computer using free software provided by Epiphan Systems, or any other video capture software that supports external devices, such as Adobe Premiere or VirtualDub.
Furthermore, the images and video from the iPad can also be broadcast using software such as Windows Media Encoder or QuickTime Broadcaster.
More information on the VGA2USB can be obtained directly from Epiphan's website here: http://www.epiphan.com/products/frame-grabbers/vga2usb/
In an unexpected move, Epiphan Systems unveiled its' VGA2PCIe frame grabber today – a completely internal frame grabber based on the PCI Express bus. This move is unexpected because Epiphan specialized in external USB and Ethernet based devices.
The VGA2PCIe is a fairly basic 1-channel VGA frame grabber.  At the same time, VGA2PCIe offers capture rates that are impressive to say the least. Let's take a look at the advantages and shortcomings of this new device:
Advantages:
No compression when transferring the from VGA to the PC, meaning that your computer will see the VGA signal in 100% lossless, raw quality.
Capture rates vary between 35-85 frames per second, making this frame grabber ideal for high frame rate applications.
VGA2PCIe is able to capture full HD (1920×1080) video at high frame rates.
VGA2PCIe is based on 1x PCI Express, meaning it will fit in any PCI Express slot.
For a price of $800, this is lower than other competing internal devices.
Shortcomings:
Only one channel for VGA capture, although several VGA2PCIe devices can be installed on the same machine.
No drivers for Linux or Mac, but Epiphan promises to add them in the near future.
No audio input capture support, while other frame grabbers in Epiphan's product line (like the VGA2Ethernet) support a stereo audio input.
Conclusion
VGA2PCIe is a strong contender in the internal frame grabber market. It should definitely be put under consideration if you are shopping for an internal VGA frame grabber. The specifications are impressive an Epiphan's support has always been great.
A first in the market of high resolution video capture hardware, Epiphan Systems has announced a new open source frame grabber – Epiphan Lecture Recorder.
According to the product page, shipping of the Lecture Recorder will start sometime in November. Epiphan Lecture Recorder, or ELR in short, has some promising features that, at the price tag of $2000, are unbeatable by similar offerings.
ELR's Unique Features
Even though this product seems to be aimed at the educational market, Epiphan Lecture Recorder has some unique features that make it a perfect frame grabber for pretty much any application. Firstly, ELR supports not only DVI and VGA capture, but also has on-board inputs for composite video and stereo audio.
Furthermore, Epiphan Lecture recorder has a very generous 32GB of buffer memory, which is expandable via portable flash sticks, network drives, or external hard disks.
Finally, ELR features 5 USB ports for external devices and peripherals, meaning that you can create software that will allow you to connect external control devices such as IR remotes, CD/DVD writers, wireless modules, an so on.
Open Source
As mentioned earlier, Epiphan Lecture Recorder will be an open source device. What this means for developers is that it is possible to access all features of the frame grabber. And, because the ELR is more of an embedded computer or internet appliance, many interesting applications can be written for it. For example, the ELR, as it has an Ethernet network interface, can function as its own server, as pictured below.
In a Nutshell
The Epiphan Lecture Recorder is more of a computer with on-board frame grabber and video and audio capture cards than it is an actual frame grabber. While this might not be the ideal device for the general public, the ELR could be used as a platform for a wide variety of applications.
Click here to view Epiphan Lecture Recorder's product page on Epiphan Systems' website.
As the Windows 7 Release Candidate was made for free public downloading this week, manufacturers of hardware and software developers were able to test their software and hardware compatibility with Microsoft's new operating system, slated to hit retail stores in October 2009.
Epiphan Systems, the manufacturer of external frame grabbers, recording, and broadcasting solutions for VGA and DVI has announced that all of its' devices run smoothly under a Windows 7 environment and that the latest version of their software includes full support for this new operating system.
However, users may encounter some difficulties upon upgrading to this new OS, so it is still recommended that you reinstall the software when upgrading from XP or Windows Vista, as the drivers might not remain after the update.
ScreenCaptureNews will keep you updated as more software and hardware developers announce their products' compatibility with Windows 7.
One of the most visited pages on our site is our massive and extremely informative feature comparison table for the world's best VGA and DVI frame grabbers. Since it was created, some manufacturers have changed the specifications for their devices, while Epiphan Systems introduced the VGA2Ethernet frame grabber, which is now part of the table.
The first thing that you may notice is that the VGA2Ethernet has much higher specifications than any other frame grabber on the market. This is due to the fact that the VGA2Ethernet is a  much more sophisticated device and, as such, is not really comparable to the other grabbers.
Why is the VGA2Ethernet different?
You can think of the VGA2Ethernet as a separate small computer equipped with a frame grabber. As such, it is able to function remotely. In other words, the VGA2Ethernet does not have to have close proximity to the target computer, as is the case with PCI or USB based frame grabbers. As shown below, the only requirement for the VGA2Ethernet is that it be on the same network as the target computer, and within proximity of the source that it is capturing the VGA signal from.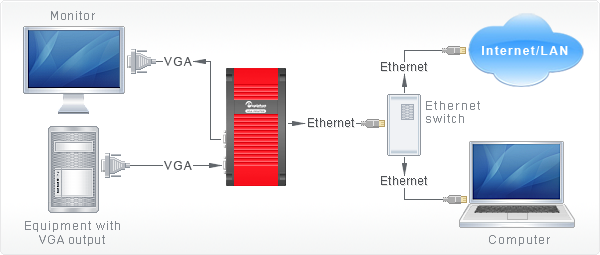 The fact that the VGA2Ethernet can be separated from the target computer distance-wise is not the only thing that makes this device different from others, however. By using the Gigabit Ethernet bus to transfer the images and a PowerPC processor paired with an advanced FPGA, the VGA2Ethernet is able to digitize images at resolutions up to 2048 x 2048 and, depending on the change in content from frame to frame, transfer them at up to 120 frames per second, making the VGA2Ethernet significantly faster than other any frame grabber available on the market.
Please click here to go to our complete VGA frame grabber review and specification page. Do not hesitate to contact us should you wish another product to be added to the table.
When an organization, company, or individual has an idea for a VGA capture-based product, such as a webcasting system, a recorder of VGA signals, or any other VGA-related hardware product, a separate frame grabber is purchased, mated with a PC with software, packaged, and sold.
Solutions for capturing, broadcasting and recording presentations and seminars are often rediculously expensive ($10 000+) due to the fact that the original cost of the hardware (frame grabber + capture card + PC + peripherals) runs at half the retail value of the actual product. Not only did this make VGA capture-based solutions unaffordable to some, it also meant that educational institutions such as school and colleges had to spend an arm and a leg if they were to outfit every single one of their classrooms with such devices.
In order to solve this problem, Epiphan Systems has announced and is now shipping a new product aimed at capturing the market of developers, power users, and integrators – the VGA2LAN Development Kit. With a fully open-source architecture, a custom Linux build environment, access to all drivers and ports, the VGA2LAN is poised to create a revolution in the industry.
What is it?
The VGA2LAN platform is based off of a Motorola PowerPC chipset and comes preinstalled with a custom build of Ubuntu. The basic specifications are as follows:
1 VGA input with integrated frame grabber
1 VGA output
Integrated Gigabit Ethernet hub
5 USB 2.0 ports (4 external + 1 internal)
No moving parts
In other words, the VGA2LAN is effectively a small PowerPC-based computer with an integrated frame grabber.
VGA Capture
Of course, what interests us most is the quality of VGA capture that this device can achieve. Does it really make sense to develop products using the VGA2LAN platform or is it still better to use an internal or external frame grabber paired to a PC? The basic specs are listed below and a full list of specifications can be obtained at Epiphan Systems' web page:
2048 x 2048 maximum resolution
120 frames per second maximum capture rate
Lossless quality
270 Mpixels/s pixel rate, 532Mpixels/s if interlaced
The specifications of the integrated frame grabber are comparable to those found in high-end devices costing upwards of $2000. A detailed comparison of VGA frame grabbers can be found here. And, since the price of the VGA2LAN Development Kit is under $1000, it makes sense to use it instead of a computer + frame grabber combo often costing 5 times that amount.
A Platform for Next Generation Internet Appliances
The VGA2LAN does not come with any internal memory. However, USB 2.0 flash memory drives can be purchased for pennies on the dollar and are sold in all capacities up to 128GB, meaning that you have plenty of buffer space to work with. Furthermore, the 4 external USB ports can be used to connect external hard drives and other storage media, such as CD, DVD, or Blu-Ray burners, infinitely expanding the VGA2LAN's storage capacity.
Since the VGA2LAN is an open source platform, devices such as USB Wi-Fi antennas can be connected in order to provide wireless communications, should the integrated Gigabit Ethernet network card not be sufficient for your application. Furthermore, the presence of USB 2.0 ports means that peripherals suchs as keyboards, mice, AMX/Crestron control units, and others can be interfaced with the VGA2LAN, making it perfect for virtually any application that involves the capture of VGA signals.
The VGA2LAN Development Kit is a great way to build, use, and sell hardware products for a company or organization that doesn't have the resources, finances, or expertise to manufacture their own capture hardware. And, at a price of $999 US, it is most definitely a bargain.
Click here to navigate to the VGA2LAN Development Kit product page on Epiphan Systems' website and find out more about this exciting product.
A while back, we had an article that featured a device made by IOGear that broadcasts a video signal over Wi-Fi to a VGA output. Now, Epiphan Systems has released a device, the VGA2WiFi, that does almost the exact opposite.
Imagine you are giving a presentation or a lecture and you would like to give your audience real-time instant access to what is being displayed on the conference screen. Normally, you'd have to either prepare slides ahead of time and hand them out ahead of the presentation or make them available later. This might be alright if you are using PowerPoint only, but imagine that you are demonstrating the image from a VGA device that is not a computer, such as an embedded machine, electronic microscope, or medical device.
The VGA2WiFi solves this problem by taking any VGA signal, converting it into a digital image, and broadcasting it over 802.11g Wi-Fi for your audience to view. As long as your viewers have access to any 802.11b/g-enabled device with a web browser, such as a smartphone, PDA, or notebook computer, they are able to view the presentation on their screens as it happens. No additional software needs to be installed.

What's more, the VGA2WiFi works with signals of up to 1600 x 1200 and broadcasts a true lossless image, meaning that 100% of the source image quality is retained, which is important for environments where a high level of precision is required.
For a while now, Epiphan Systems has been making the popular VGA Recorder and VGA2WEB web-based collaboration and conferencing devices. This month, however, Epiphan has unveiled the VGA Recorder Lite and VGA2WEB Lite, both of which are "light" and portable version of the mentioned devices.
Both the VGA2WEB Lite and VGA Broadcaster Lite are budget-oriented devices which are able to broadcast a VGA signal with a resolution of up to 1600 x 1200 to an Internet audience. Using the Gigabit Ethernet interface to connect to a local area network (LAN) or the Internet, these devices are ideal for those that would like to collaborate, present, or broadcast a VGA signal but do not want to hassle with complicated software or hardware modifications.

Once the VGA2WEB Lite or VGA Broadcaster Lite devices are plugged in and running, the audience can simply access the broadcast using their web browser or media player, such as QuickTime or VLC.
While both devices work with signals of up to 1600 x 1200 and broadcast supplied image in 100% lossless diagnostic quality, the VGA2WEB Lite uses motion JPEG compression, meaning that its broadcast can be accessed via a simple web interface. The VGA Broadcaster Lite's webcast, on the other hand, uses H.264 or MPEG4 video compression to relay the VGA signal to its viewers, meaning that a media player such as QuickTime is needed in order to view the broadcast that is created by it.
A comparison of both devices can be found by going to this page on Epiphan System's offical website.