Imagine that you have multiple monitors that need to be either constantly monitored or remotely accessed. Normally, this would be impossible to do using conventional equipment. You would either have to individually access each monitor or use complicated analog video monitoring equipment. Now, with the release of Epiphan Systems' VGA Grid, monitoring up to 256 VGA outputs (or monitors) is simple.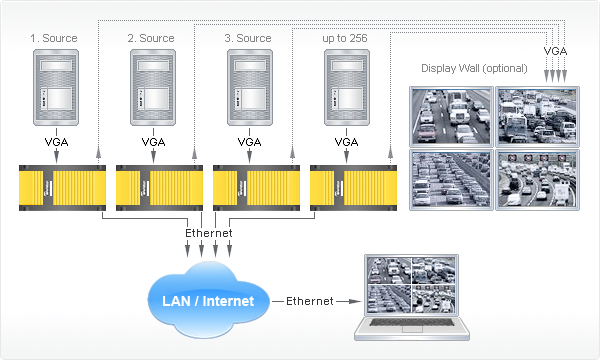 In order to use the VGA Grid system, one VGA Grid device (about the size of paperback novel) must be connected to the output of each VGA signal. The VGA Grid must also be able to access the Internet or LAN through its built-in Gigabit Ethernet interface. Once these two conditions are met, you are able to remotely log into a web-based control panel which displays the output of each of your VGA signals on one screen. Of course, you are able to zoom in on each VGA signal individually and archive the output for later viewing.
Since the VGA Grid is a frame grabber-based device, it is able to monitor VGA signals with resolutions of up to 1600 x 1200 and relay the images from them in 100% lossless quality, which is important in mission-critical control room applications.
If control room monitoring or combining many VGA streams into one signal is essential to your organization, then the VGA Grid is a product that you should seriously consider. Not only is it compatible with any existing Ethernet-based LAN infrastructure, it is the ultimate solution for the combination of multiple high-resolution video signals onto a single screen.
Gone are the days of WebEx and high-priced license-based collaboration solutions. Epiphan Systems has introduced a simple yet powerful VGA-based conferencing product for online collaboration and monitor synchronization.
The VGA Bridge, promises to "bridge" the distance gap between two monitors or projectors, whether they be in the rooms next to each-other or accross the world.

It works by digitizing the analog VGA signal into a compressed digital format that is suitable for web broadcast and then sending it to the receiving VGA Bridge for uncomression and reproduction. While this is not a new concept in the world of web-enabled streaming content, the fact that the VGA Bridge can handle resolutions up to 1600 x 1200 in 100% lossless quality is a first. Of course, you would need a fast and stable Internet or Gigabit LAN connection in order to achieve transfer rates of up to 60 frames per second, but that is to be expected from such as high-end and specialized product.

If web-based collaboration, telemedicine, or remote monitor synchronization are critical to your application, we suggest that you seriously consider the VGA Bridge from Epiphan Systems.
With current high end PCI-based and USB-based VGA frame grabbers pushing maximum capture rates of 60 frames per second, a VGA frame grabber that could capture at twice that rate seemed like a far-fetched idea… until today.
Already up for sale on this page, the VGA2Ethernet frame grabber claims to operate at a maximum resolution of 1600 x 1200, at which it can capture at a maximum rate of 66fps. However, that number is 120fps for lower resolutions.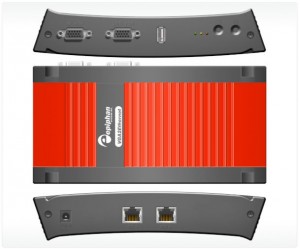 Typical of any frame grabber made by Epiphan Systems, the VGA2Ethernet is external, portable, and has the same recording, archiving, and broadcasting functions of its smaller siblings. You may find a detailed review of these functions in our Epiphan VGA2USB LR Review.
Unlike any other VGA or DVI frame grabbers, the VGA2Ethernet, as the name suggests, plugs into the Ethernet port of the target computer. While GigE and other machine vision frame grabbers have been using the Ethernet protocol for some while, emplying Ethernet in a VGA frame grabber is a first for the industry. VGA2Ethernet uses the Gigabit Ethernet protocol, which is what allows it to achieve such high transfer rates when compared to traditional USB or PCI frame grabbers.
Besides the capture rate advantage, using the Ethernet protocol also allows you to extend the distance between the actual frame grabber and the target computer, as long as both the grabber and the target computer are on the same LAN. A diagram is shown below (taken from Epiphan.com):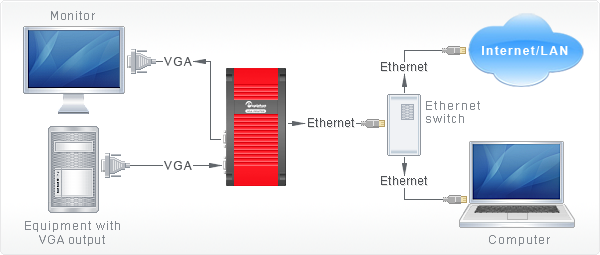 Stay tuned for more news and reviews as more information is released by Epiphan Systems about the VGA2Ethernet.
Do you need to print handouts or create hard paper copies directly from your presentation projector, PC, electronic microscope, navigation system, or any other VGA source? Even it today's digital age, paper copies provide not only and easy way to distribute something (amongst a classroom, for example) but are also much more secure, and often cheaper, than any digital storage medium. For that reason, paper is still the primary method of archiving information in most parts of the world.
So what exactly do you need to print VGA to paper? There are several alternatives to be looked at. The cheapest, and least reliable, is using a simple VGA frame grabber coupled with a PC and a printer. This is a great alternative for those that already have a computer that is connected to a printer that they can use.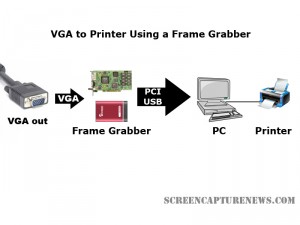 As shown in the diagram above, the VGA source is connected to the frame grabber which is tethered to the PC either through an internal PCI slot or external USB connection. A printer is connected to the computer. This can be a USB, parallel, wireless, or even a network printer. In order to perform the printing action, the user must navigate to the print function in the frame grabber's software. Before buying a frame grabber, one must make sure that its software has full support for printing.
Since printing to paper does not require high frame rates, pretty much any frame grabber will be able to handle the task at hand. The most cost efficient one, at just under $300, is the Epiphan Systems VGA2USB. While it is not as advanced as the VGA2USB LR that we reviewed, the VGA2USB uses the same software as the VGA2USB LR, meaning that it fully supports printing. Please refer to our frame grabber specification table for complete specifications on the most common VGA and DVI frame grabbers manufactured to date.
Using a Dedicated Device
Imagine you are conducting a presentation and you need to give paper printouts to your audience of something they see on the screen. Suddenly, your computer freezes up and you are no longer able to produce the needed handouts.
For applications where printing from a VGA source is critical, a stand-alone device is much more reliable and easier to use than the setup described above. One such device is the Epiphan Systems VGA Printer.
The diagram above, taken from Epiphan Systems' webpage, explains how a the VGA Printer works. Basically, the small VGA Printer replaces the frame grabber and PC entirely. The VGA-in of the VGA printer is connected to the equipment with the VGA output, while the USB or Ethernet is connected to a printer or network printer. The user then has a small control unit which controls when and how many printouts are to be made.
Final Thoughts
If you have any VGA source, whether it be a PC, a server, navigation equipment, or a projector, creating paper copies is easy with the use of frame grabbers or stand-alone dedicated devices. For those on a budget or those that don't need to print often, the first "frame grabber" method of VGA printing costs only $300 for the frame grabber.
Those that depend on printing from VGA for critical tasks should prepare to shell out $1500 for the VGA Printer, as it is the only stable and reliable solution to converting a VGA video feed into physical paper.