Epiphan Systems Inc., an innovator in professional audio-visual capture, record, broadcast streaming and replay hardware products has introduced a new member to its family of external frame grabbers, the DVI2USB 3.0™.  This new product is Epiphan's most versatile and highest performance external grabber ever.

DVI2USB 3.0 captures video signals from VGA, HDMI, and DVI sources and supports either USB 3.0 or USB 2.0 connectivity to a host computer.  All of this flexibility is packed into in a sleek and robust aluminum case that fits in the palm of your hand.

DVI2USB 3.0 takes advantage of the increased throughput of USB 3.0 SuperSpeed to deliver outstanding performance.  It captures full HD video signals uncompressed at 30 frames per second while maintaining true 24-bit colour to preserve the quality and integrity of the original source signal.  Because it does not implement compression to achieve the 30 fps throughput this performance is independent of video content no matter how dynamic.
DVI2USB 3.0 draws its power from the host computer USB 3.0 link so that no external power source is required.  It is easily connected in a matter of seconds with one cable to the host computer and another to the video source.
DVI2USB 3.0 comes complete with Epiphan Capture software and drivers for Windows, MAC and Linux systems.  This software is compatible with DirectShow, QuickTime, and V4L (Video for Linux) for integration with 3rd party imaging software.  The software is common across the whole family of frame grabbers enabling a smooth migration from other frame grabber models to this newer high performance model.
MSRP for DVI2USB 3.0 is 699.95 USD.
DVI2USB 3.0 can be pre-ordered immediately for shipment on March 1, 2013.
For more information on DVI2USB3.0, please visit the DVI2USB 3.0 product page.
About Epiphan
Epiphan Systems Inc. ("Epiphan") designs, markets, manufactures and supports an innovative line of VGA/DVI/HD video signal source processing products. The products are proven, ideal solutions for capturing, compressing, transcoding, recording, broadcasting, streaming, replaying and printing of virtually any video source. Epiphan products are used in a wide range of applications such as education, training, simulation, medical imaging, computing, security, transportation, pro-av and legal applications in which capturing, processing, recording and sharing VGA/DVI/HD video source output is critical to effective communication. Epiphan is headquartered in Ottawa, Ontario, Canada with a sales office in the USA and authorized resellers throughout the world.
For more information, please visit www.epiphan.com
Media Contact Information
Shaun Markey
Shaun Markey Communications
+1 613 728 9951
Shaunmarkey@rogers.com
Epiphan Media Relations: info@epiphan.com
US/Canada: 1 (877) 599 6581
Outside USA/Canada: +1 (613) 599 6581
Epiphan Media Contact Page
Almost all computer equipment sold these days supports DVI. This can range from modern computers and  projectors to game consoles like the Microsoft X-Box. Of course, this means that high end hardware solutions for DVI capture are now becoming readily available.
The first thing that you must determine is whether your DVI signal is a true digital video signal or a traditional analog source. The easiest way to tell if a digital or analog signal is running through your DVI port is to look at he connector that you are using and match it with the diagram of the DVI connector below.
If either your DVI plug or connector are DVI-D (DVI-Digital), this means that a 100% digital signal is being used. For this kind of signal, you absolutely need to use a DVI frame grabber.
If the connector or plug is of the DVI-A (DVI-Analog) flavor, then you'd be able to use a DVI to VGA adapter and a VGA frame grabber. DVI-A supports analog signals only is and is identical to VGA but with a different pin placement.
If the plug is DVI-I (DVI-Integrated), this means that it is capable of running both an analog and digital signal along the cable. Thus, unless you know if the signal is analog or digital, you would need a DVI-capable frame grabber to capture the signal.
As stated earlier, a VGA frame grabber would do the job for DVI-A and analog-only DVI-I signals.  Before a VGA grabber can be used, the DVI signal needs to be converted to a VGA one using a DVI-to-VGA adapter, which costs roughly $10 (pictured below).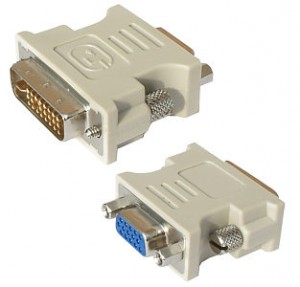 You can now follow the same procedure as you would when recording a VGA signal with your VGA frame grabber.
Digital Signals (DVI-D and DVI-I)
If you have determined that you have a digital DVI signal that needs to be captured, a DVI-specific frame grabber must be used. Before choosing a suitable frame grabber, you must determine if the DVI signal is single link or dual link.
A single link DVI signal can support, at a refresh rate of 60 Hz, a maximum resolution of 1915 x 1436. If your DVI cable supports a higher resolution at a refresh rate of 60 Hz, then you are running a dual link signal. Dual link DVI is used primarily on large LCD monitors, such as the Apple monitor or the 25″+ Dell monitors.
If you need to capture a dual link DVI signal, then your choice of frame grabber is limited to one model, the Epiphan Systems DVI2USB Duo (pictured below), which captures single and dual link digital DVI signals only.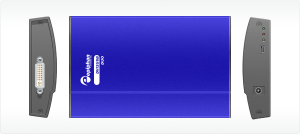 Unfortunately, the DVI2USB Duo is a very specific high-end frame grabber that does not have the ability to capture an analog or VGA video signal. However,  the DVI2USB Duo is a blessing for those with dual link DVI capture requirements. You can see how the DVI2USB Duo stacks up against its competition in this table.
If, however, you need to capture a single link DVI signal, then your choices are much greater. If you are looking for a PCI-based card, then you have a choice of the EMS Imaging Xtreme RGB, NCast DCC 3.1 or the Unigraf UFG-03. If you are into external USB-based solutions, then Epiphan Systems offers the DVI2USB, which is an external dual-mode VGA and DVI frame grabber or the DVI2USB Solo, which can capture a single link DVI signal only.
There is no one ideal frame grabber that does everything. Your choice of a DVI capturing device should depend on your needs, as outlined above. If you wish to find the specifications of each frame grabber featured in this article, then this would be a good place to start.