If you're a software developer, you know how аnnoying it is to try to understand a bug report which someone has sent you regarding your software. A picture is worth a thousand words, and a screenshot is worth more than any good text-based bug report.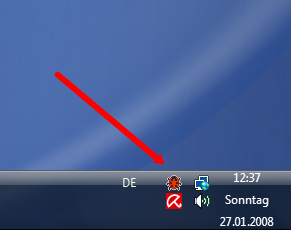 Bug Shooting, a Windows-only application, not only captures screenshots and allows the user to edit and annotate them, it also allows the user to automatically send the screenshots over Skype, e-mail, or each of these bug trackers:
– FogBugz
– Gemini
– OnTime
– BugTracker.NET
– SharpForge
What's more, Bug Shooting is absolutely free and also has the ability to send screenshots to any application using a command line interface. This means that you can integrate Bug Shooting's functionality in your own software and custom applications with ease.
Functionality:
- Capture screen
– Capture windows
– Capture screen area
– Delayed capture
– Support for multiple screens
- Edit screenshot
– crop
– resize
– add geometric shapes
– add arrows
– add text
– add images
– rotate, flip
- Print screenshot
– Save screenshot
– Open screenshot from file
– Combine screenshots
- Shortcuts are possible for a lof of functions
- Send screenshots to different bug tracker
– FogBugz
– Gemini
– OnTime
– BugTracker.NET
– SharpForge
- Send screenshots to
– Skype
– Default Email Client
– Any application by using command line
- Multilingual
– English
– German
– Russian
- Custom commands: open an URL by shortcut
- Screen magnifier
- Automatic update function
- Silent installation and uninstallation
Bug Shooting constantly runs in your taskbar. Thus, it's menu is activated by right-clicking on the little ladybug icon.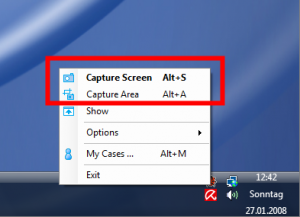 From here, you can select if you would like to capture your entire screen or just an area of your screen. Alternatively, you can press Alt+S to capture your screen from any application that is running or press Alt+A to bring up the "capture an area of a screen" function.
Bug Shooting has a pretty extensive interface, shown below, for editing your screen captures and sending them to a bug tracker or other application.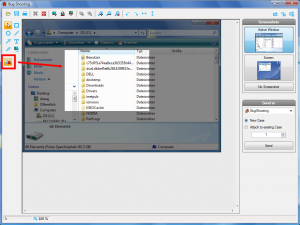 Bug Shooting also provides the user with a good amount of annotation tools, including formattable text, arrows, circles, squares, and so on…

Finally, Bug Shooting provides the user with a choice of which application to send the screenshot to.
Final Thoughts & Comments
Bug Shooting is one of those great, free, screen capture programs that has a nice, refined interface, takes up little system resources, and is extremely easy to use. Even though the original purpose for Bug Shooting is for creating bug reports out of screenshots, it is still a good application to use for general screen capturing of images. You may also want to compare Bug Shooting to the  other similar applications which we have reviewed, all of which can be found in the Software section of ScreenCaptureNews.